Home page|| Tanker Notes || Container Ship Operations || Ocean Navigation ||





Ships operation- Emergency procedures for towing of tankers



Ships shall be provided with a ship-specific emergency towing procedure based on equipment available on board. The procedure shall include:
Drawing of fore and aft deck showing emergency towing arrangements
Inventory of equipment on board that can be used for emergency towing
Description of means and method of communication
Sample procedures to facilitate the preparation for and conducting of emergency towing operations.

Emergency towing system (ETS), also emergency towing gear – Equipment used to tow a ship out of danger in emergencies such as complete mechanical breakdowns, loss of power or loss of steering capability. Typical emergency towing arrangements consist of strongpoints and fairleads fitted forward and aft of the ship, on the ship centreline. Other components are pick-up gear, towing pennant, and chafing gear.

To reduce the risk of pollution, tankers of 20,000 dwt and upwards should be fitted with a stern ETS (to be ready for operation under harbour conditions within 15 minutes) and an ETS on the foredeck. Similar arrangement could be required soon for all other ships greater than 20,000 tons deadweight.

Requirement:: All Oil, Chemical and Gas Tankers above 20000 DWT, constructed on or after 1st July, 2002, are equipped with an "Emergency Towing Arrangement (E.T.A.) both Forward And aft to provide the ship with a rapidly deployed towage capacity in an emergency. The Forward system is required to be deployed in One hour by the ship's crew and the Aft system by one man in 15 minutes.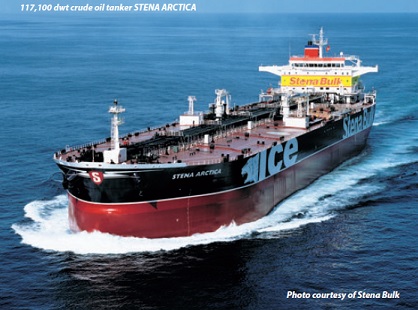 Fig: 117,100 dwt crude oil tanker STENA ARCTICA


Whereas the Forward system has options for use with or without vessel's electrical power, the Aft system should be pre-rigged and be able to be set up by manual operation alone.

Readiness

The E.T.A. should be inspected at regular intervals to confirm

i) It is ready in all respects for immediate deployment

ii) There are no obstructions

iii) All associated portable equipment like Chain stopper, Hammer, Pliers, Split pins, Mooring shackles etc., are clearly marked and securely stowed near the fixed equipment.

iv) All moving systems of the equipment are greased and operated at regular intervals

v) There is no corrosion on any part of the system.

vi) The self-igniting light on the marker buoy lights up.

vii) It is clearly marked to facilitate safe and effective use even in darkness and poor visibility.

Training

Procedures for deployment of the ship specific E.T.A. are to be displayed in a common place on board (at least Navigation Bridge, beside the Device (F&A)) accessible by all, as well as being included in the ship's SOLAS Training Manual.

Drills should be practiced regularly in deployment of the equipment, though it is not necessary to fully deploy the equipment. The procedures during drills should be used to familiarize the crew with the method of operation as well as emphasize any hazards which might be faced by personnel during deployment.

Other

The E.T.A. is only meant to assist in removing the ship from immediate danger and may not be designed for a long haul. A more permanent towing system is then required to be planned by the Master and the Tug.

Emergency towing vessel (ETV) – Advanced pollution prevention and control ship designed to deal with a wide range of potential maritime incidents. Among her principal roles are, towage and salvage assistance to casualties at sea, deep sea towing, fire fighting and anti-pollution duties. An adapted offshore anchor-handling supply vessel configuration is proving to be the most popular and Rolls Royce Marine has been quick to offer suitable variants of their UT design for the purpose.





Related Information

The Master's Responsibility during Salvage Operation

Salvage remunerations - benifits of L.O.F. contract or daily hire basis contract

Salvage of another ship

Investigation of stranding,Self -refloating,Securing the vessel or Requesting salvage

General guidance for oil tankers

Tanker equipment and machinery

Pumproom procedure

General precautions prior entering freezing areas

Ship to ship transfer arrangement

Pumproom inspection for tankers

Safe stability guideline for oil tankers Learn basic procedure

Safety precaution during oil handling operations

Oil pollution prevention method

General precautions for tankers

Tanker equipment and machinery

General guidance for oil tankers

Crude oil washing for tankers



Oil tanker handling more opeartional guideline

Oil pollution control method

Gas freeing arrangement for oil tanker

Handling guideline for oil cargo

Oil pollution prevention method

Preparation for loading oil cargo

How to prevent spillage of oil cargo

General precautions for oil cargo loading in tankers

General precautions for tankers

General guidances for tank cleaning

General precautions for ballasting procedure

Tanker operation in a laden voyage

Preparation for discharging oil cargo

General precautions for oil cargo discharging

How to ensure safe working area onboard oil tankers



Shipping industry recognizes environmental protection as one of its highest priorities and that every effort should be made to conserve and protect the environment from marine, atmospheric and other forms of pollution.
Our articles are based on various shipboard activities,prevention of pollution,safe operation & maintenance procedure. We welcome any feedback from our visitors. For any comments or suggestions please Contact us
Site Use and Privacy - Read our privacy policy and site use information.
Terms and conditions of use

Copyright © 2010 www.shipsbusiness.com All rights reserved.