Home page|| Tanker Notes || Container Ship Operations || Ocean Navigation ||


Lashing requirements on board container ship - care of lashing devices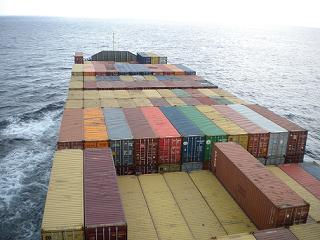 container stowage


When containers are carried on deck, the ship is required to be approved for that purpose and the containers themselves are secured with twistlocks and lashings. These usually consist of steel rods and turnbuckles. Lashing pattern to be followed on board is detailed in the vessels cargo securing manual.

When containers are carried below deck, the containers are slotted into cell guides on a cellular container ship. When carried within a cell guide framework, no further external support is generally required.

When 20' containers are stowed below deck in 40' cell guides it may be necessary to over-stow the 20' containers with a 40' container. The Cargo Securing Manual should be consulted before loading.

Vessels lashing requirement as per the cargo securing manual must be informed to the terminal staff, stevedoring company as required and if necessary copies of the Lashing Patterns must be provided.

There must be a clear understanding as to the vessels lashing requirements in order to avoid delays and non compliance with cargo securing requirements.
Unused cargo loose securing devices after discharging containers must be stowed away safely in designated lashing bins on deck. After cargo operations are complete, it must be ensured that no loose securing devices are lying on container tops, hatch covers or such places so as to pose a potential threat of injury or damage.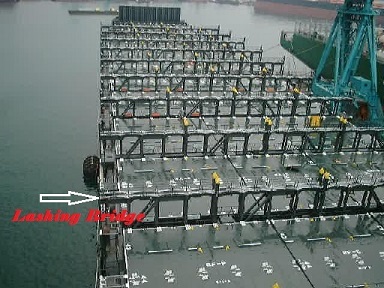 Fig: Lashing bridge


Ships lashing gear must be well cared for and crew must always be vigilant to avoid loss of lashing material. These are mainly lost due to pilferage, damage, gear being left on the quay and not returned on board and twistlocks remaining on discharged containers carried away to the yard.

Lashing bridge – A strong steel structure installed between hatches to permit the stowage of an additional tier of containers or heavier containers in the upper tier. Lashings can be applied at a higher level but can also remain short.

Container lashing

Certified container lashing components must be in place for safe and efficient lashing of containers. Defective equipment must be replaced immediately. It must be ensured that deformed hooks are not used. It is also dangerous to overlook the wastage of steel on securing devices as that would reduce the strength of the lashing arrangement.

Crewmembers should ensure that the lashings are well maintained and lashing devices are kept in good condition.

Stevedores are usually responsible for lashing and de-lashing jobs in the port, however, due to lesser port stay and time constraints, crewmembers are also responsible for this operation. While conducting lashing and de-lashing operation, crewmembers should wear Personal Protective Equipment (PPE) such as a reflective vest, steel toe shoes, hard helmet, gloves etc. They should also stretch and warm up their muscles before conducting this strenuous physical job in order to avoid a muscle pull or injury.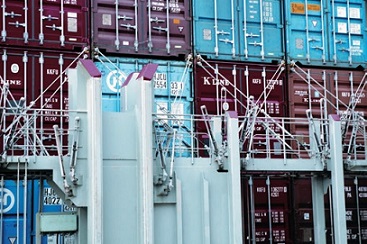 Fig: Containership lashing pattern


Use of a back support belt is a must during lashing and de-lashing operations and the crew should be cautious while walking around the ship as the vessel's structure could lead to a tripping hazard. It is also important for crewmembers to understand the plan and order of the lashing and unlashing operation. It should be kept in mind that reefer containers always require more attention and co-ordination for plugging and unplugging during loading or unloading operations.





Related articles

Metacentric height GM factors and Securing system

Containership Securing equipment ''gearbox''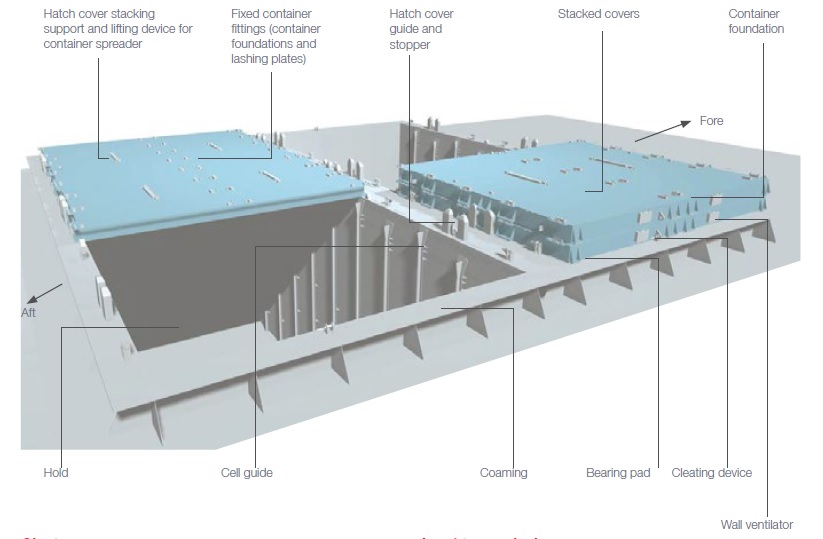 Containership cargo hold fixtures




Our additional pages contain somewhat larger lists of resources where you can find useful informations

Our articles are based on various shipboard activities,safe operation,maintenance and onboard procedure. We welcome any feedback from our visitors. For any comments or suggestions please contact us.


Safe Cargo operation and various guidelines

Foreward visibility for container ships

Calculating positive gm for containership

Hatch cover operation and required clearance under deck

Reason of Hulldamage by stevedores

Hull stress countermeasures

IMO guidelines safe cargo handling

Irregular stowage of containers

Lashing requirement for container ships

Lashing strength calculation

Meeting with Heavy weather








Other info pages !

Ships Charterparties Related terms & guideline
Stevedores injury How to prevent injury onboard
Environmental issues How to prevent marine pollution
Cargo & Ballast Handling Safety Guideline
Reefer cargo handling Troubleshoot and countermeasures
DG cargo handling Procedures & Guidelines
Safety in engine room Standard procedures
Questions from user and feedback Read our knowledgebase
Home page




ShipsBusiness.com is merely an informational site about various aspects of ships operation,maintenance procedure, prevention of pollution and many safety guideline. The procedures explained here are only indicative, not exhaustive in nature and one must always be guided by practices of good seamanship.


User feedback is important to update our database. For any comment or suggestions please Contact us
Site Use and Privacy - Read our privacy policy and site use information.
//Home //Terms and conditions of use

Copyright © 2015 www.shipsbusiness.com All rights reserved.