If a container is loaded with a cargo where the pulp temperature exceeds the carriage temperature stipulated by the shippers, the "Warm" or Hot cargo will cause the temperature of the delivery air to raise very rapidly when passing up and through the cargo. Eventually, the return air may reach a temperature level whereby the refrigeration machinery cannot cool it down sufficiently prior to re-circulating it as delivery air. In this event, the tracking pattern on the chart or logger will show a temperature higher than that of the temperature control setting.
The delivery/return air differential will in most cases narrow as the continuous circulation of air, being cooler than the cargo, brings the cargo temperature down towards the desired level. Any rise in return air temperature will be arrested as the refrigeration unit begins to run in standard operational mode.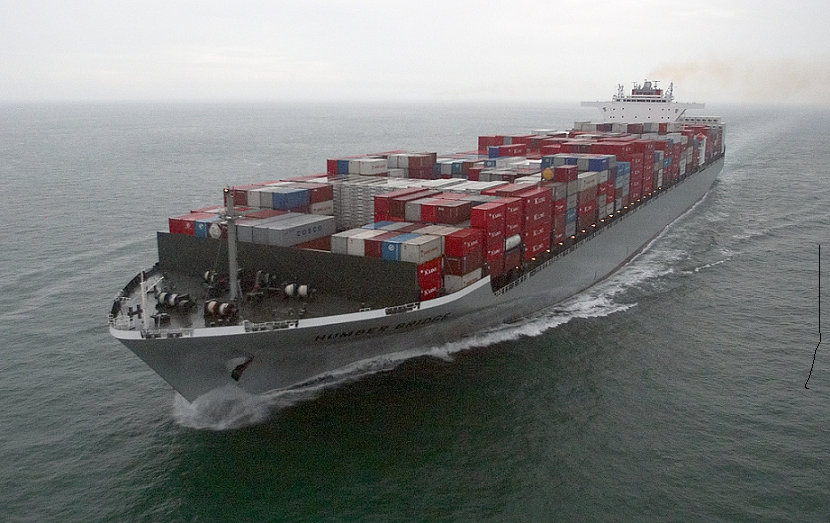 Fig :Container ship at sea
In cases where the stuffing temperature is higher than the stipulated carriage temperature, the refrigeration unit will cool down the surface layer of the cargo relatively quickly (within days). However, the centre of the stow will not reach the desired temperature for a considerable period of time.
The temperature of a cargo stuffed into a refrigerated container should not, in general, deviate by more than 3 degree C (5 degreeF) from the specified carriage temperature. Chilled cargo (excluding bananas) should not deviate by more than 0.4 degree C (1 degree F). This does not mean that even these deviations should be encouraged; the objective is to receive and deliver the cargo at the carriage temperature.
Reefer Container Shipment
Procedures and guidelines for stowage of reefer containers have been mentioned earlier under the cargo stowage section, these shall be adhered to. Every reefer container proposed for shipment must be accompanied by a reefer container list or manifest.
Additionally read our article on
Reefer cargo Handling In Port
Reefer containers shall be plugged in and supplied with ships power as soon as practicable after loading. In case it is to be done by shore hands, ships crew shall still closely monitor the operation and confirm that all reefer containers are supplied with power earliest after loading....
Reefer cargo care at sea
At sea, all reefer containers shall be monitored by checking physically at least Twice daily (weather permitting). All monitored data for each reefer container on board shall be entered in a reefer monitoring log and retained for 3 years. Some reefer containers with special cargo (e.g.: VIP cargo) come with instructions for more frequent monitoring and reporting. Such instructions shall be strictly followed. ....
Commodities Shipped In Reefer Containers
Some cargoes may require controlled humidity (e.g. flower bulbs). It should be remembered in such cases that many refrigeration units are only capable of reducing humidity within the cargo space and the settings should be applied accordingly. ....
Reefer Cargo Temperature Recording
A Partlow recorder registers temperature on a pressure sensitive circular chart over 31 day period. If the voyage transit is expected to exceed 31 days, care must be taken to ensure charts are replaced before expiry. The first chart should be placed under-neath the new chart in order to build up a complete temperature record for the entire voyage up until arrival at the final destination. .....
Reefer Cargo Maintaining Records
Monitoring the digital & chart temperatures of all reefer containers at least twice a day. Daily reefer container temperature check lists should be maintained, and printouts from monitoring unit should be preserved.....
Reefer Cargo Defrosting
During the operation of a refrigeration unit, a layer of ice will form on the evaporator coils depending on the temperature set, the temperature of the cargo, the amount of fresh air ventilation and the cargo humidity. The unit periodically enters a phase where heat is produced by a series of electrical bars, allowing defrosting to take place. At such times, all fans are turned off automatically in order to prevent heat from entering the cargo compartment. ....
Basic check item prior stowing Reefer Cargo
Stowage location of reefers must be checked against vessels reefer receptacle locations. In case reefer containers must be loaded in irregular locations, it must be confirmed that monitoring and repair will be possible during the voyage and that vessel has sufficient extension cables for providing power. ....
Container handling additional guideline:
Containership cargo stowage and planning
Stacking Weights Restrictions
Lashing strength calculation
Dangerous goods stowage and segregation
Reefer Container Stowage
Out of Gauge Container Stowage
Special Container Stowage
20 or 40 or 45 feet Compulsory Stowage Locations
Irregular Stowage of Containers
Over-stow of Containers


Hatch Cover Clearance (High cube containers Under Deck )


Other matters regarding cargo stowage as necessary
How to load maximum number 20 feet container on deck ?
What are the extra precaution should be taken prior loading a 45 feet container on deck ?
Container damage in ''2 in 1'' cargo Operation
Modern containership & loading of various container types
How to load containers coming in different forms/sizes
Our additional pages contain somewhat larger lists of resources where you can find useful informations

Other info pages !
Ships Charterparties
Related terms & guideline
Stevedores injury
How to prevent injury onboard
Environmental issues
How to prevent marine pollution
Cargo & Ballast Handling
Safety Guideline
Reefer cargo handling
Troubleshoot and countermeasures
DG cargo handling
Procedures & Guidelines
Safety in engine room
Standard procedures
Questions from user and feedback
Read our knowledgebase
Home page

ShipsBusiness.com is merely an informational site about various aspects of ships operation,maintenance procedure, prevention of pollution and many safety guideline. The procedures explained here are only indicative, not exhaustive in nature and one must always be guided by practices of good seamanship.


User feedback is important to update our database. For any comment or suggestions please Contact us
Site Use and Privacy - Read our privacy policy and site use information.
//Home //Terms and conditions of use

Copyright © 2015 www.shipsbusiness.com All rights reserved.