Home page|| Tanker Notes || Container Ship Operations || Ocean Navigation ||



How to calculate Lashing Strength - A guide to Container ship cargo stowage

Lashing strength of deck cargo shall be ascertained by using the appropriate lashing strength calculation software where provided. All resulting values for lashing strength must be within the tolerance limits prescribed by vessels classification society.

Lashing strength calculation software provides alarms/highlights for containers that are affected by excessive forces. Such situation may be corrected by adjusting the vessels Ballast / Fuel condition or alternatively by advising Terminal planner / Central planner and having the cargo stow plan appropriately modified.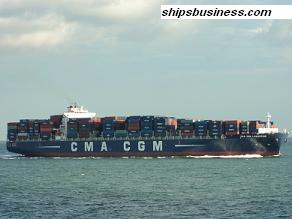 In case such anomaly is noticed, the master shall notify all concerned parties and have the condition corrected at the earliest prior departure or at the next port as instructed by Vessel operator / Central planner. In such case, master shall also take this special case into account during maneuvering in heavy weather.





If lashing strength calculation results are exceeding tolerance limits, failure of lashing gear or failure of the container itself may occur. Probability of this happening is highly enhanced in inclement weather and attendant heavy rolling, pitching or heaving.

Each lashing gear component has a safe working load and is likely to fail if forces exceed this value. Failure of lashing gear components will then besides freeing restraints, also likely result in forces on containers exceeding tolerance limits.

Sea freight containers are designed to withstand a defined minimum racking force, side wall racking force, vertical compression, vertical tension, corner post and shearing force at twist lock.

Forces exceeding these defined minimum values (tolerance limits) will likely result in structural damage or collapse of the container. If one container in a stack collapses, it is likely that the entire stack will collapse.




Other factors should be taken into account before accepting a containership cargo stowage plan, :



Stacking Weights
Prior loading cargo, stacking weights of containers must be checked against the allowable stack weights on board the vessel both on deck and under deck. Neglecting above may cause serious damage to ships structure, hull and eventually overall stabilty of ship may get affected. ....

Dangerous goods stowage and segregation
After confirming acceptability of the DG cargo, the plan must be checked for proper stowage and segregation. Although terminal and central planners should provide proper stow of DG cargo, the final responsibility always lies with the Master. ...

Reefer Container Stowage
Stowage location of reefers must be checked against vessels reefer receptacle locations. In case reefer containers must be loaded in irregular locations, it must be confirmed that monitoring and repair will be possible during the voyage and that vessel has sufficient extension cables for providing power. ....

Out of Gauge Container Stowage
Out of gauge containers are usually stowed underdeck and in case of an On Deck Stow, careful consideration will be required. Local planner or agent may be requested for such approval prior loading. ....

Special Container Stowage
When stowing high cube containers on deck, visibility from bridge must be considered in case several high cube containers are in the same stack. When stowing these Under Deck, Hatch cover clearance must be considered. ....

20 or 40 or 45 feet Compulsory Stowage Locations

How to check Irregular Stowage of Containers
Stacking Weights Lashing Strength Special Container Stowage Over-stow of Containers Dangerous Cargo Stowage & Segregation 20 or 40 or 45 feet Compulsory Stowage Locations ....

Over-stow of Containers
The duty of the Terminal planner/ Central planner is to carefully plan the loading on board so as to ensure minimum or no overstow of containers that will require to be re-stowed at subsequent ports. .....

Hatch Cover Clearance (High cube containers Under Deck )
Hatch Cover Clearance (High cube containers Under Deck ) Hatch cover clearance must be checked carefully in case of loading over height containers or high cube containers underdeck. .....

Other matters regarding cargo stowage as necessary
If any other irregularities are found in the stowage plan they must be corrected by liaising with Terminal planner / Central planner or local agent. ....








Other info pages !

Ships Charterparties Related terms & guideline
Stevedores injury How to prevent injury onboard
Environmental issues How to prevent marine pollution
Cargo & Ballast Handling Safety Guideline
Reefer cargo handling Troubleshoot and countermeasures
DG cargo handling Procedures & Guidelines
Safety in engine room Standard procedures
Questions from user and feedback Read our knowledgebase
Home page




ShipsBusiness.com is merely an informational site about various aspects of ships operation,maintenance procedure, prevention of pollution and many safety guideline. The procedures explained here are only indicative, not exhaustive in nature and one must always be guided by practices of good seamanship.


User feedback is important to update our database. For any comment or suggestions please Contact us
Site Use and Privacy - Read our privacy policy and site use information.
//Home //Terms and conditions of use

Copyright © 2015 www.shipsbusiness.com All rights reserved.